As the temperatures rise and the sun shines brightly, it's time to embrace the playful and timeless charm of polka dot dresses. With their whimsical patterns and feminine flair, polka dot dresses have become a fashion staple for the summer season. Polka dot dresses effortlessly capture the essence of retro-inspired elegance, adding a touch of vintage charm to your summer wardrobe. The classic polka dot pattern instantly evokes images of glamorous eras gone by, allowing you to channel your inner fashion icon.
Whether you opt for a vintage-inspired silhouette or a modern twist on a classic design, a polka dot dress is sure to make a captivating and timeless statement.
Effortlessly Chic: Embracing Polka Dot Dress Fashion for a Stylish Summer
Versatility for Every Occasion:
Polka dot dresses offer unparalleled versatility and can be styled for a wide range of summer occasions. For a casual day out, pair a flowy polka dot sundress with sandals and a wide-brimmed hat for a relaxed and effortlessly chic look. To dress up for an evening event, opt for a tailored polka dot midi dress, and pair it with statement accessories and heels for a sophisticated and glamorous ensemble. From picnics in the park to garden parties and beyond, polka dot dresses ensure you're always dressed to impress.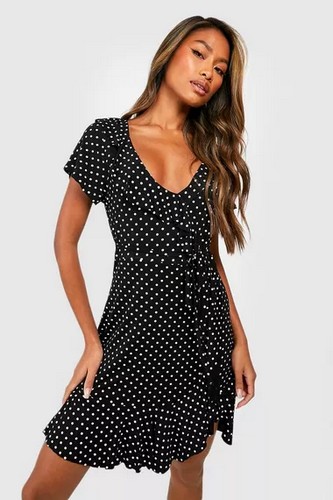 Playful Patterns, Endless Styling Options:
With an array of dot sizes, colors, and placements, polka dot dresses offer endless styling options to suit your personal taste and fashion preferences. Choose from classic black and white polka dots for a timeless look, or opt for vibrant colors and oversized dots to make a bold and eye-catching statement. Whether you prefer a subtle and delicate pattern or a more daring and playful design, there's a polka dot dress that will perfectly express your individual style.
Breezy Comfort and Effortless Style:
Summer fashion calls for lightweight and breathable fabrics, and polka dot dresses deliver on both comfort and style. Look for dresses made from airy materials like cotton, linen, or chiffon that allow your skin to breathe and keep you cool on hot summer days. The flowy and relaxed silhouettes of polka dot dresses ensure both comfort and effortless style, allowing you to move with ease while maintaining a chic and put-together look.
Timeless Appeal and Lasting Impression:
Polka dot dresses have stood the test of time, and their timeless appeal ensures that they never go out of style. Investing in a high-quality polka dot dress means you'll have a fashion piece that can be enjoyed for seasons to come. The playful and feminine charm of polka dots leaves a lasting impression, and you can be confident that you'll turn heads and receive compliments wherever you go. A polka dot dress is a wardrobe staple that exudes confidence, sophistication, and an inherent sense of style.