Boho fashion is all about expressing your unique style with a free-spirited and eclectic vibe. One way to enhance your boho look is by incorporating agate beadstone jewelry into your accessories collection. Agate, with its beautiful patterns and soothing energy, is a perfect gemstone choice to create inspirational and eye-catching jewelry pieces that complement the bohemian aesthetic.
Agate Inspirational Beadstone Jewelry Designs for Boho Fashion
Agate is a variety of chalcedony that is known for its unique banded patterns and vibrant colors. It is believed to possess various metaphysical properties that can promote harmony, balance, and positive energy. When used in beadstone jewelry designs, agate can add a touch of natural beauty and spiritual significance to your boho-inspired outfits.
Here are some inspirational beadstone jewelry designs featuring agate that are perfect for boho fashion:
Agate Beaded Necklaces: Create long, layered necklaces with multiple strands of agate beads in different shapes and sizes. Combine them with other natural elements like feathers, wooden beads, or tassels for a bohemian and earthy feel.
Agate Statement Rings: Design oversized rings featuring large agate cabochons in vibrant hues. The unique patterns and colors of the agate will make these rings a standout piece in your boho jewelry collection.
Agate Dangle Earrings: Craft long and dangling earrings using agate beads and charms. Incorporate feathers, dreamcatcher elements, or intricate metalwork to add a boho touch to your earrings.
Agate Cuff Bracelets: Make bold and chunky cuff bracelets using agate slices or large beads. Pair them with other natural gemstones like turquoise or coral to create a captivating bohemian arm candy.
Agate Anklets: Combine small agate beads with seashells, colorful threads, and tiny charms to create whimsical and boho-inspired anklets. These will add a touch of beachy and carefree vibe to your summer outfits.
Agate Macramé Jewelry: Incorporate agate beads into macramé designs, such as knotted bracelets or necklaces. The combination of the intricate macramé patterns and the earthy beauty of agate will give your jewelry a boho-chic look.
Agate Hair Accessories: Create unique hair accessories like agate hairpins, headbands, or hair combs adorned with agate slices or beads. These accessories will add a bohemian flair to your hairstyles.
Agate Choker Necklaces: Design delicate choker necklaces featuring small agate beads or pendants. Combine them with other natural materials like leather cords or feathers for a trendy boho style.
Agate Wrap Bracelets: Use agate beads, leather cords, and colorful threads to create wrap bracelets. Incorporate boho-inspired charms like feathers, arrowheads, or tree of life symbols to enhance the overall aesthetic.
Agate Dreamcatcher Pendants: Craft unique pendants using agate slices as the focal point and weave them into dreamcatcher designs using threads, feathers, and beads. These pendants can be worn on long chains or cords, adding a touch of boho mysticism to your outfits.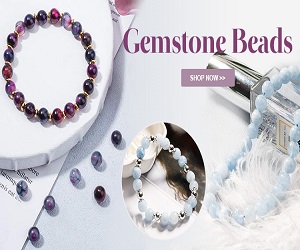 Remember, boho fashion is all about embracing individuality and expressing your personal style. By incorporating agate beadstone jewelry into your boho-inspired looks, you can create captivating pieces that reflect your free-spirited nature while adding a touch of natural beauty and positive energy to your style.